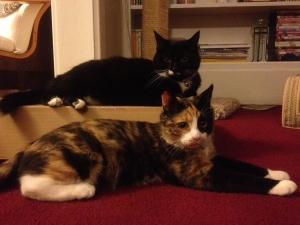 Introductions are due….
It all began one rainy night in October of 2009.  I had recently seen a litter of adorable kittens and being a cat person at heart, decided I needed to adopt one.  I made my trip to the pet store, trying to figure out what to buy as I hadn't shared living space with a cat since high school.  Well over a hundred dollars later, I needed to go pick up my bundle of fur and even more difficult, decide which one to pick!  I knew I wanted a female because I already bought a pink kitten collar.  So I traveled out to the country to pick out my illegitimate barn cat that I would inevitably turn into a pampered house cat.  There were two females in the litter and as I'm making the heart wrenching decision, of course the one that gave kisses and ultimately won my heart was also the trouble maker that was scratching furniture 10 seconds before.  I knew then, there would be a battle of wills in the near future.  That was adoption day.  I brought home an 8 week old tuxedo kitten, who remained nameless for the next two and a half weeks since I couldn't decide on the perfect name.  I, in turn, decided on the most imperfect name, Tinkerbell.
Two Years Later…
Two years and nine months later, another rainy day, I made a trip to the local shelter, mostly undecided as to whether Tinkerbell needed a playmate.  I was reading The Cat Bible and according to that, all indications pointed toward yes, but I was still on the fence.  Again, I knew I wanted a female because I like that they stay on the smaller side and I really wanted a gray tuxedo cat because I love black and white but wanted visitors to be able to tell the two cats apart.  As we know, nothing ever goes as planned.  There was an adorable calico/tortie female that was just purring up a storm.  But the shelter was closing so we had to leave and I had the weekend to think about it.  Monday morning comes along, I tell my coworkers about the kitten and they egg me on to adopt her, although, I think their intentions were more out of teasing than sound advice.  I called the shelter as soon as they opened and find out she's been transferred to another location.  I convince my best friend from work to go during lunch to pick up this kitten.  We get there, she hasn't arrived yet but the volunteers tell me they'll hold her, even though it's against the rules.  As soon as I can leave work, I rush to the pet store to pick up yet another batch of provisions and pick up the new edition, who meow-cried the entire drive home.  Little did I know what a handful she would turn out to be!   She also remained nameless until her first vet visit where I was forced to write down a name, Tidbit, apparently 'new kitten' is only acceptable to make an appointment.
In between these two stories, I met my best friend and now husband.  He admittedly disliked cats until he met me and Tinkerbell won him over, then Tidbit used her kitten charm and he didn't stand a chance!  Having grown up with various animals throughout my childhood, cats one of the constants in our home, having a cat, then two, was pretty natural.  Although I now had the additional pressures of things like the vet visits, picking out the right food and such things.  My husband didn't grow up with a dog, cat, gerbil or anything of the sort, so I continually have to answer questions like "Can the kitten have ravioli/pizza/cake?" and the follow up of "why not?"  Of course, training a kitten is a chore in itself and coming to the realization that I first had to train a person, then a kitten, came with another set of challenges.
So this is our family of four.  You'll hear more about the antics that ensue and the futile feeling any cat owner gets when negotiating with their furrier half.