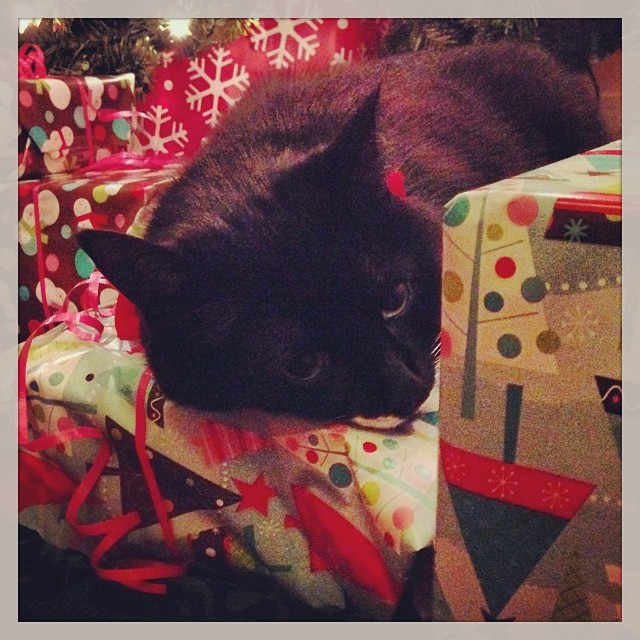 When it comes to the season of giving gifts, we all run out of ideas!  Look no more, help has arrived…. if you're shopping for the cat lover in your life!  (We all know at least one!)  Here are a few thoughtful cat themed gifts.
For anyone:
This one is for the true cat lover in your life and it can't get more personalized than a customized calendar with a picture of their cat for each month!  Or better yet, find a local artist that creates pet portraits, like this one.
Stone cat coasters are a versatile gift.  Cute enough to have on your table but also for the cat lover in your life.
No cat themed gift list would be complete without suggesting a cat collar!  Keep them festive with a seasonal collar and keep them safe by letting others know this kitty has an owner if you have an escape artist!
For the philanthropist or cat activist:
A donation to an animal shelter in the recipients name.  There are so many good organizations out there that are always in need of resources.  Whether it's local or national, there are organizations that adopt cats, some take care of feral populations and everything in between.  Check out this article for more on where Swanky Kitty donates.
For the game enthusiast:
Catopoly is just like Monopoly but with cats!  Did you ever wonder how Monopoly could get better?  This is your answer!
Exploding Kittens is brought to you by the creator of TheOatmeal.com, Matthew Inman, a fellow cat lover!  It's a card game with unique and quirky cat illustrations.  The directions even come in the form of a YouTube video.  It's an uncomplicated card game with a little bit of strategy.  Purrfect for sitting around the table and chatting with friends and no worries, no kittens were harmed in the making of this game.
For the baker:
This is a very personal gift, customized pet cookie cutters are available at this Etsy shop.  This does require a good picture of your recipients pet and lead times are to be considered.  With a personalized gift like this, you can't go wrong!
For the gardener:
Depending on how much time you have, depends on how far you can go with this one.   An indoor cat garden should include the staples; cat grass and catnip and the rest can be filled in with rosemary, mint and parsley.  Combine that with a charming planter and you have a thoughtful and personal gift.  If you don't have enough time to get the plants growing, then grab all the fixings from your local nursery!
For the ladies:
A cat purse hook is a gift that any cat loving woman can use.  A purse hook folds up small enough to easily keep in your purse but unfolds to hang a purse from it when there's nowhere else to put it when you're out and about.
Probably the ultimate cat lover gift is The Cat Lady Box!  This is a monthly subscription box (gift cards also available!) that delivers items selected for the cat person and, if you get the upgrade "Crazy Cat Lady Box" you also receive two items for the special cat(s) in your life!