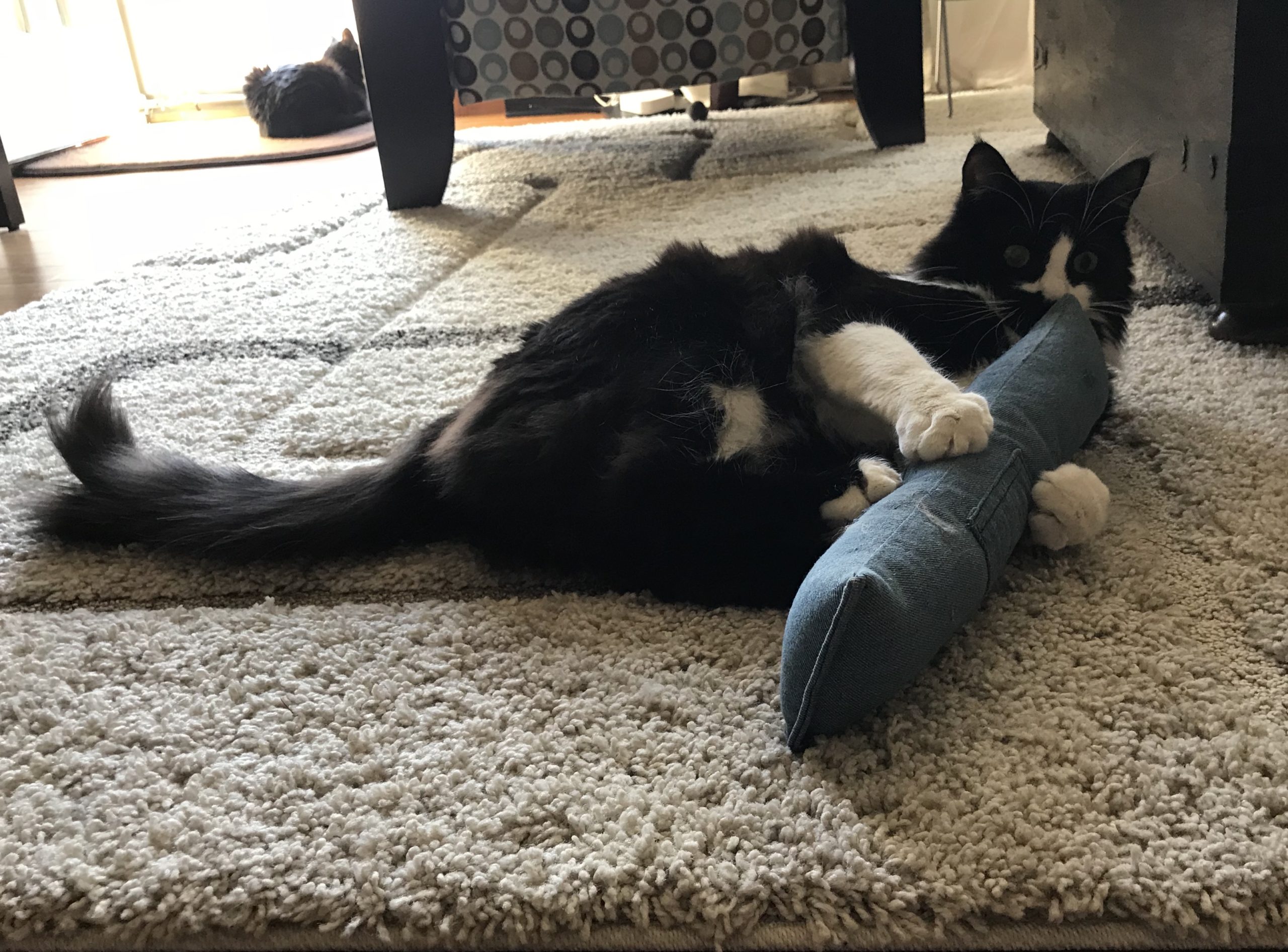 I am a cat lover, no question about that.  I love my cats, however, when we brought home our sweet little Gherkin, we had no idea what we were really in for.  Perhaps it's because it had been 6 years since we had a kitten or maybe it was because he had more energy than a nuclear power plant.  Seemingly, the only way to cope was to have a few toys for an energetic cat.
Mind you, I played and snuggled with Gherkin a LOT because he's a kitten (and because that's just what I do with kitties) and needs the extra love and attention.  Since I have a job, I can't be with him all day, every day so I had to find some solutions to his endless amounts of energy.  This is how I dealt with an energetic little boy.
Toys For An Energetic Cat
Go Cat Teaser Wand – Our cats have had all sorts of teaser wands, feathers, plush, etc.  The kitty crew will play with them all but there is something about what's at the end of this teaser wand.  There are a couples options; a bee or mouse and my cats love both.  They will play with the bee all by itself.  This is by far their favorite teaser wand!
Window Perch
– This is great for even the laziest of cats.  All three of the cats thoroughly enjoy lounging on the cat perch.  They also like sitting on it to watch the birds or whatever else it is that they watch outside.  If you have the window space, you have to get one of these!
Feeder Ball – This is less of a toy and an interactive way to feed your cat.  This also slows your cat down from gobbling up food, so this too would be good for a larger or lazier cat.  The ball has a removable lid which makes it easy to fill with food.  The outside of the ball has holes that can be adjusted for the kibble size and to adjust the level of difficulty for your cat.  I advise making the feeder ball as easy as possible for the first few go arounds and increase the difficulty after your kitty has the hang of it.
Kick Stick – I was hesitant about this one but I gave it a try and bought a few kick sticks.  Their favorite kick stick,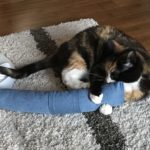 that gets a lot of attention, is a large durable denim kick stick with a pocket for catnip.  We tried microfiber and plush but it's this denim kick stick that won them over.  Try different materials and see what works best for your kitties.
Automated Toys
Interactive Laser – Again, this is like playing laser with your cat without having to actually be there to play laser.  Hit the button, the laser turns on and after a while it automatically shuts off.  It also requires batteries but, they last a while.
Interactive Butterfly – Another automated toy that has the appeal of a fluttering butterfly going around in circles.  This one is pretty engaging and fun to watch the kitties play with it.  This model is nice because the base is wide enough that they can't tip it over and you can turn it on with the tap of your toe. This toy doesn't shut off on it's own so you'll have to stick around to turn it back off.
Mystery motion toy – This is a cute toy but you'll need a hard surface, it won't work as well (if at all) on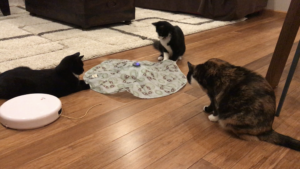 carpet.  It has an arm with a feather at the end that rolls around under a piece of fabric, using random motions.  When Gherkin was a kitten he loved this toy so much that as soon as we woke up in the morning, he would run over to the toy and start crying until we turned it on.  It's still a big hit to this day.  Yet another toy that could use an auto shut off feature but until they improve it, I will have to deal with it.
Flik Automatic Teaser – This is essentially like playing string with your cat minus the human element.  Most important, the cat actually plays with it!  You turn the toy on and the string flicks out at random times and has an automatic shutoff.  It requires batteries but they last a while so it's worth it.  This is one of our favorites!
Other Strategies
As you can tell, my strategy is play as much as you can and in between distract, distract, distract!  I also rotate all their toys and put them away for a little while before bringing the toy back out for play.  This helps prevent boredom with any one toy.