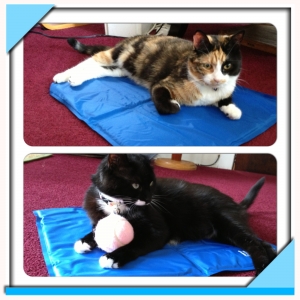 During the summer months, keeping cool isn't only a priority for us but also for our furry loved ones.  Since I currently don't have AC, (gasp!) I do get a little worried for my girls when the temperature starts to creep up.  So, a few things that I found helpful for keeping my cats cool and comfortable:
1.
  Chilly Mats – They're gel filled mats that are cool to the touch and covered in puncture proof material since they are made for specifically for pets.  I wasn't sure how well these would go over but they turned out to be an instant success.  Both cats are constantly lying, and playing on the mats, even on the cooler days.  The material has held up well to their nails too.
2. 
Drinking Fountain – 
It's a cat's natural instinct to drink moving water.  In nature, stagnant water means contaminated water.  This is why you'll sometimes see cats put a paw in their water before drinking.  
Tidbit
 started the habit of drinking from the faucet while it was running, so I figured a drinking fountain would do away with that behavior and encourage drinking.  Another instant success.  Both cats abandoned their water bowl and drink from the much preferred fountain instead.
3.
  Ice Cubes – Does it get easier than this?  I add a couple ice cubes to their bowl (or fountain) and they seem to like it or at least are fascinated by it.  Either way, I figure it doesn't hurt anything.
  If you have a playful one, you can try tossing them on the floor.
4.
  Fans – Leaving a fan on to keep air circulating during the day is key.  When it gets warm, I keep a fan on at night and see that Tidbit will 
lay
 under the bed, behind the dust ruffle, but in line with the fan.  Keeps their options open.
Less feline favored options:
•
  Brush your cat frequently.  Most aren't big fans of this but it's a necessity that helps prevent hairballs and keeps them cool.
  Consider shaving, especially for long haired cats.
•
  Dampen a wash cloth and wipe them 
down.  Again, I found this to be not so well received but it's a mere moment or two of complaining.
•
  Limit play-time to evenings and mornings.
As is always the case, if you notice any strange behavior or any signs of heat stroke, such as; lethargy, vomiting, drooling, panting, fever or collapse, contact your veterinarian immediately.